About Us
Welcoming You to the Hudson Valley
Meet Your Hosts
Barry & Sang Milea
Proprietors
With Milea Estate Vineyard, Barry and Sang have realized a longtime aspiration of bringing sustainably produced regional wines to New York City while supporting local farmers in the Hudson River Valley.
Sang grew up on a farm in Korea, and is the driving force behind the organic gardens at Milea Estate Vineyard. Sang is also an accomplished equestrienne, practicing the elegant and demanding sport of dressage. A food lover with a discerning palate, Sang and assists our winemaker, Bruce Tripp, with blends.
Barry spent his youth driving trucks and working construction before launching his own business, Milea Auto Group in the Bronx. Through this work, Barry became a leader in importing and selling electric commercial trucks in the United States. In 1984, Barry and his father, "Papa Joe" Milea, purchased the farm that is today Milea Estate Vineyard.
Russell Moss
General Manager
Russell holds bachelors and masters degrees in both viticulture and enology. He has authored numerous technical articles and has lectured in viticulture at Cornell University. He has worked extensively in the New Zealand wine industry and was previously chief viticulturist for Domaine Serene in Oregon and Château de la Crée in Burgundy. Today, in addition to his duties at Milea Estate Vineyard, Russell is a global vineyard and winery consultant for entities such as the Kingdom of Bhutan. In a previous life, he was a professional musician.
David Kim
Executive Chef
At the age of 14, David moved from Korea to Dallas, TX. He studied hotel and restaurant management at the University of Houston, but later discovered a passion for cooking. He enrolled in the Culinary Institute of America to learn classical French culinary techniques, and during his time there, he externed with Chef David Bouley. David was Executive Chef at Momoya in New York City before moving north to the Hudson Valley. His cuisine at Milea Estate Vineyard is influenced by his French training as well as his Korean background.
Mina Do
Hospitality Manager
Mina studied economics in her native Korea before moving to the United States, where she discovered her passion for wine after tasting a 1985 Henry Jayer Vosne Romanée Cros-Parantoux. Her experience in New York fine dining includes stints at Nomad, Bouley, and L'Appart. She served as sommelier and captain at the Michelin Three-Star Chef's Table at Brooklyn Fare before moving to the Hudson Valley. Mina manages our tasting experiences as well as events at Milea Estate Vineyard.
Bruce Tripp
Winemaker
Bruce comes to wine from a science background and with a focus on sustainability. He previously worked as a fishery biologist as well as an environmental technician and engineer; but he has been a home winemaker since childhood, when he acted as a neighbor's cellar assistant. Bruce made the jump from amateur to pro when he joined Tousey Winery in Germantown. Today, in addition to leading winemaking at Milea, he serves as the Vice President of the Hudson Valley Wine & Grape Association and leads the region's Cabernet Franc Coalition.
River Allan
Associate Winemaker
River is a highly skilled winemaker, with a master's degree in Viticulture and Enology from Cornell University. River has cultivated his expertise in world class wineries across New York and Virginia. His particular interests include the crafting of high quality Cabernet Franc and Chardonnay. Combining his scientific training with his background in photography and bartending, River has mastered both the art and the science of wine production. His wines consistently earn top accolades from renowned critics and competitions, reflecting his unwavering commitment to excellence. River's dedication to sustainability and respect for nature shines through in every bottle, showcasing the region's unique terroir.
Ed Evans
Estate Manager
Ed pressed and fermented hard cider with his Hudson Valley cousins as a kid, and started home brewing at the tender age of 17. After retiring from a career in the New York City mounted police, he came to Milea Estate in 2008. Soon after, he found himself planning a winemaking program with Barry Milea. Today, Ed manages our cider making and distilling programs, and assists with winemaking and viticulture. You can find him on a tractor in the vineyard, or on a ladder in the orchard.
Meet Our Mascots
The Hudson River Valley is legendary for its stables and horse farms. Barry and Sang Milea are both avid equestrians, and Sang continues to compete in Dressage. On our estate, we provide homes for three retired competition horses, who greet guests who have booked a private tour. We are also proud supporters of horse-rescue organizations such as Lucky Orphan Horse Farm and 13 Hands Ponies.
The Milea Estate Story
After the 1908 Messina earthquake and subsequent tsunami devastated his home in Calabria, Italy, Anthony Milea immigrated to the United States. He purchased a farm in the Hudson River Valley in the 1920s, where he grew fruit and raised his family.
Six decades later, his grandson and great-grandson, Joe and Barry Milea, returned to the Hudson Valley and purchased the historic Rymph Family Farm as an homage to their forefathers. Today, that property is Milea Estate Vineyard.
The River That Runs Both Ways
For some ten thousand years, members of the indigenous Lenape (also known as Delaware) tribe lived alongside the Mahicannituck ("The River that Runs Both Ways"). French Huguenots arrived in the 1660s, and soon after, began planting grapevines. The oldest continuously operated vineyard in the United States today was planted in the Hudson Valley in the 1700s.
This stretch of the river later gained renown for its grand Gilded Age mansions, but farming never ceased to be the primary activity. Milea Estate Vineyard is located just north of Hyde Park, in the quiet hamlet of Staatsburg. Our property includes a pre-Revolutionary farmhouse dating back to 1747. Owned at one time by Reuben Spencer, a colleague of George Washington, it is now a luxury lodging available for rental.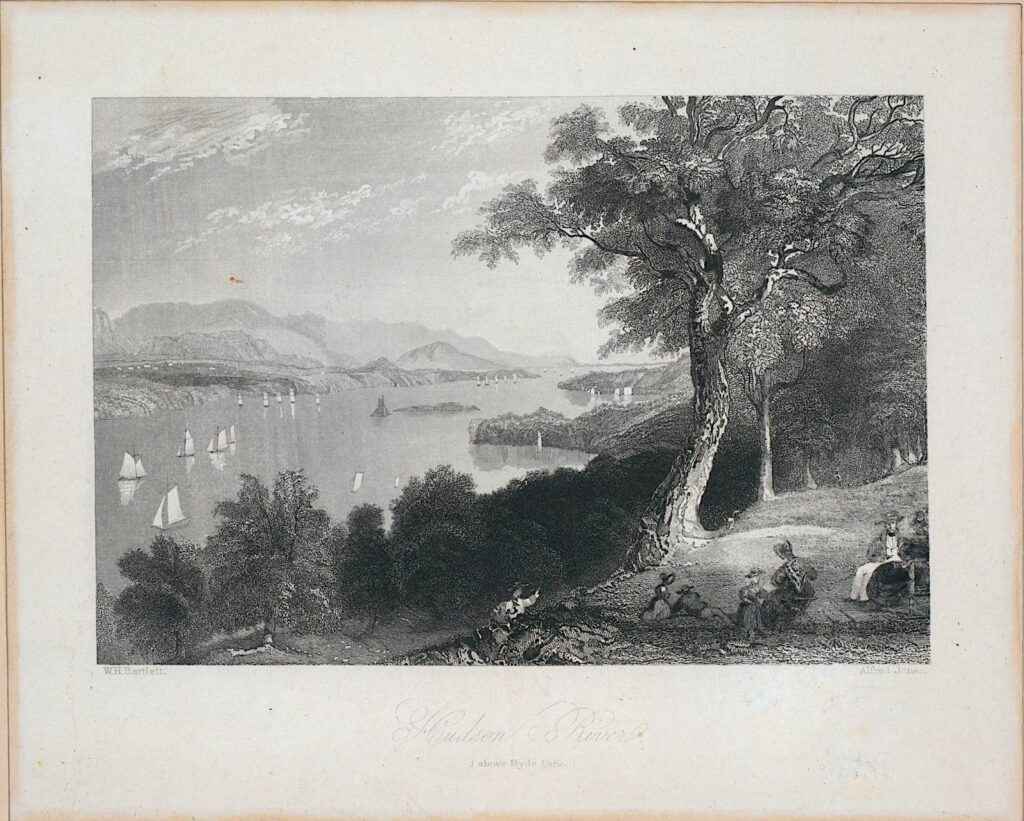 A Taste of Centuries Past
The Hudson River Valley is the second-oldest wine region in the United States, with French Huguenot vineyard plantings documented as far back as 1677. Today, Milea Estate Vineyard supports the preservation of antique grape cultivars through our Hudson Valley Heritage Wines.