The Spencer House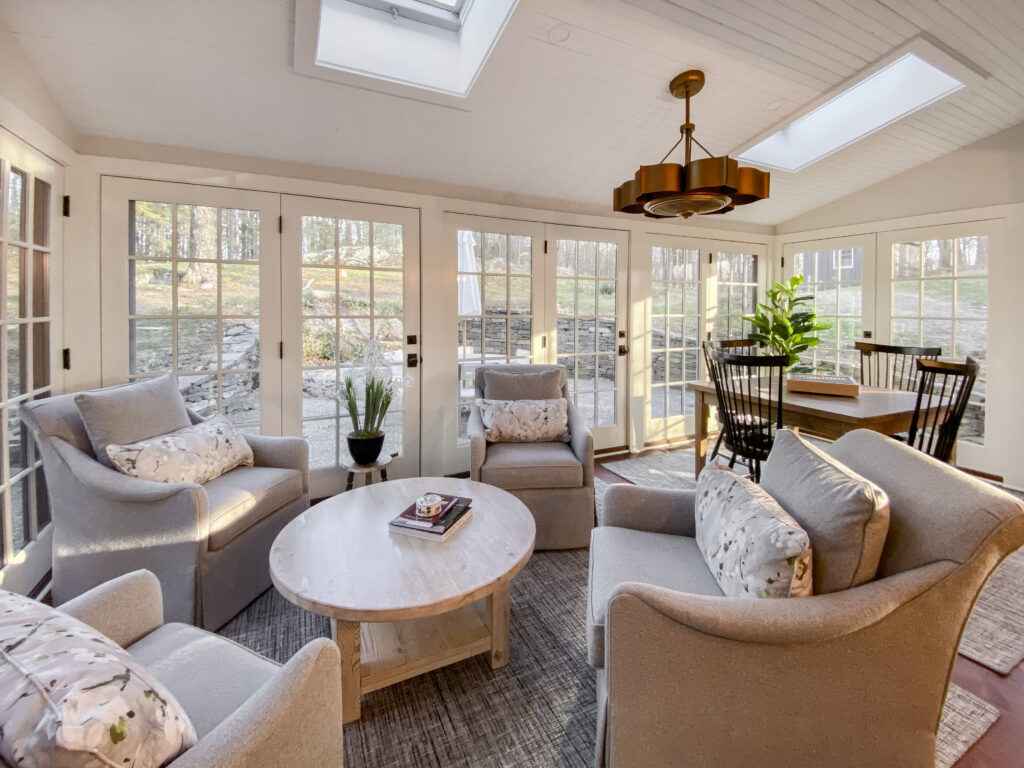 Book your stay in a luxurious Hudsonian farmhouse hideaway, originally built by George Washington's land surveying partner and revolutionary aide-de-camp in 1747.
The well-appointed 2000-square-foot retreat features 2 bedrooms with 2 full en suite bathrooms, a full kitchen with luxury appliances, well-adorned living spaces, and a pool sunken into the bedrock that forms the basis of Milea Estate's special soil.

Owned by the Milea Family and located just 2 minutes from Milea Estate, it makes the perfect homebase for a wine country getaway.
Your booking of the Spencer House includes Milea Estate's exclusive concierge, at your service.
Other local lodging
Mirbeau
Based on the Mirbeau philosophy of balancing life with wellness and indulgence, the world-class Mirbeau Inn & Spa Rhinebeck is reminiscent of an old-world chic Parisian Hotel, yet with all the modern comforts that today's travelers expect.
Extend your relaxation by enjoying the complimentary indulgences like lounging in the Resting Area, take in the Himalayan Salt Sauna, Eucalyptus infused steam room, or the heated spa whirlpool with a private bar in the Aqua Terrace.
Complimentary exercise classes include yoga, Tai Chi, Pilates, and strength training as well as a fully equipped fitness studio.
Dine at Willow at Mirbeau which draws upon the Hudson Valley to represent the region's agricultural heritage. The menu showcases the team's dedication to progressive American cuisine. Featuring local and seasonal produce from multi-generational farms, emergent food artisans, and craft distillers, the restaurant is open for breakfast, brunch, lunch, and dinner.
Located right in the heart of Rhinebeck, just minutes from the Rhinecliff-Kingston Train Station and a short drive from New York City, Mirbeau Inn & Spa Rhinebeck is the perfect place to re-balance one's life through a restful, yet inspiring experience.
Millbrook Inn
This Millbrook, NY bed and breakfast is a serene retreat in the heart of the Hudson Valley, surrounded by lush farms.

Completely renovated, it brings you the modern updates you want and the historic charm you crave.
The Inn was formerly a boy's dorm for the Greer School, founded in 1906. The building has had several lives since then, and in 2010, was reborn as The Millbrook Inn. Now, under new ownership, the Hudson Valley Inn has undergone a complete renovation and expansion, adding a bar/restaurant, expanded gardens and greenspace.
A major piece of the renovation included reclaiming the green space from an old parking lot that took up most of the property. They have, in its place, planted meadows of flowers, walking paths lined with daylilies; a kitchen garden with herbs and vegetables; and an outdoor fire garden to enjoy a 'smore or a nightcap before turning in for the night.
Located 30 minutes from Milea Estate in historic Millbrook, the Inn makes an excellent homebase in the mid-Hudson Valley.
Habitas on Hudson
Located just outside the charming village of Rhinebeck just two hours from New York City, Habitas-on-Hudson is our countryside retreat and playground for the curious with activities around adventure, learning and culinary experiences. Ideal for disconnecting from city life, our unique experience in the Hudson Valley offers a place to bathe in the synchronicities of nature and connect with like-minded individuals.
With lush forests and rolling fields surrounding it, the retreat features 30 guest rooms that combine rustic-chic aesthetics and soothing natural materials.
But the property's specialty are the exhaustive list of outdoor and indoor experiences that transform it into a year-round playground, inspired by the company's core pillars: wellness, food, music, art, adventure, learning, and giving back
Located 10 minutes from Milea Estate in Staatsburg, NY. Habitas is truly a gem among full service lodging.